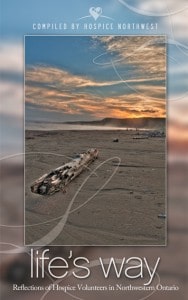 Life's Way is available for purchase at the Hospice Northwest office, located at 63 Carrie Street or by calling (807) 626-5570, ext 5573.
Online purchases can also be made at the bottom of this page.
Life's Way is an honest and inspiring collection of personal stories that share the experiences of thirty palliative care volunteers in Northwestern Ontario. Hospice Northwest volunteers reflect on the deep experiences of being a companion to clients who are grieving or facing a life-limiting illness, and describe the profound lessons they learned about life and death.
This tender, courageous and sometimes heartbreaking collection of true stories will take you on a journey of the heart and will invite you to look within and embrace authentic human connection. The book is illustrated with personal photos of volunteers and clients, and the cover features a beautiful scene of Lake Superior taken by local photographer Stephen Roberts.
Buy Online
Life's Way – $18.00 plus Shipping
This book would not have been possible without the financial assistance of The Northern Ontario Heritage Fund Corporation, The Paterson Foundation, Tbaytel, and The Port Arthur Rotary Club. Hospice Northwest and the Hospice Advisory Committee extends a special thank you to these organizations for their generosity and commitment to supporting creative projects that strengthen the communities of Northwestern Ontario.