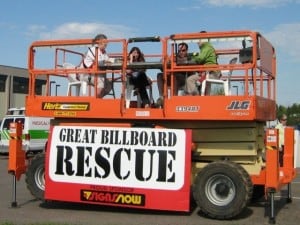 Every year, our Hospice Northwest staff and board members are pleased to participate in the United Way of Thunder Bay's largest fund-raising event, the Annual Great Billboard Rescue.
Throughout the month of May, our HNW team will be busy calling and gathering pledges to help raise money for the United Way. Our brave team will then ascend into the sky on a 50-foot scissor lift where they will make their last few calls for support, while trying not to look down!
If you would like to contribute to a great cause and sponsor a member of our Hospice Northwest team, please call our office at (807) 626-5570 to make your pledge.
For more information on the Great Billboard Rescue, please visit the United Way of Thunder Bay website.