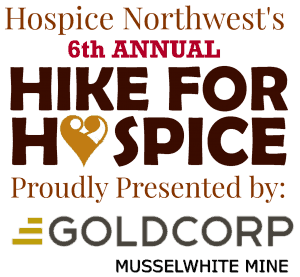 Sunday, May 7, 2017 at Boulevard Lake
Hospice Northwest's main Hike is at Boulevard Lake in Thunder Bay, with a second hike in Geraldton on Saturday May 27th
THUNDER BAY EVENT TIMES:
Registration Day: May 5, 2017 at Hospice Northwest, 63 Carrie St | 9 AM – 7 PM Sunday May 7, 2017
Final Registration 12:30 PM – 1:30 at St. Ignatius High School, 285 Gibson St
Hike Start Time is 1:45 at Boulevard Lake
What is Hike for Hospice?
Hike for Hospice is a nationwide event hosted by hospices and palliative care organizations, that occurs annually on the first Sunday of May. This event kicks off National Palliative Care Week and helps build awareness and raise funds to ensure individuals and family members living with a life-threatening illness receive support at no charge.
Ways to Register
Online Registration
You can access more information about the Hike for Hospice by clicking on the following links:
Already Registered Online?
Off-Line Registration
If you don't want to use the Online Registration system, you can register by filing out a Hike for Hospice Pledge Form and Waiver Form
May
7
Sun
Hike for Hospice

@ Boulevard Lake
May 7 @ 1:30 pm – 2:30 pm
Join us for the 6th Annual Hike for Hospice at Boulevard Lake
Final Registration at 12:30pm
Event starts at 1:30pm
If you are interested in Hike for Hospice Sponsorship Opportunities please click here to download our Sponsorship Package.
View Our Generous Sponsors
View Our Highlights Gallery