At Hospice Northwest, you are not alone. Our caring volunteers are there for you, wherever you are, as you face the difficult challenges along life's way.
We believe each client should be seen and heard as a person, not as an illness. Your individual needs will determine the type of assistance you receive, whether you are home, in hospital or in long-term care.
Hospice Northwest believes in offering support with dignity, so that you can make every moment matter. This support is available to people who are ill, their caregivers and those who have experienced the death of a loved one.
It's very simple to request our services. Clients or family members can find out more about our services by calling (807) 626-5570, or by completing our online referral form
Testimonials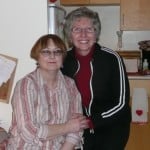 My Hospice Northwest volunteer has been through many illnesses with me, from insulin reactions, laser surgery to my eyes, fractured ankle, to an amputation.

She has traveled with me to an out-of-town d… Read more