12th Annual Hike for Hospice: May 28, 2023
Hike for Hospice is Hospice Northwest Services' only major fundraising event of the year. Together, we have raised over $550,000 for palliative care in our community since 2012! Once again this year, we are offering both an in-person and a virtual event for all those who want to support the Hike.
Join us on May 28th at St. Ignatius High School for our pre-Hike festivities from 9 - 10 am.  We will then meet across the street at Boulevard Lake Park to begin our 12th Annual Hike for Hospice!
Planning is still in the early stages for the 2023 event, but we hope to have local vendors, including food trucks, a kid's area with clowns, a bagpiper, musical entertainment and more to celebrate the 2023 Hike for Hospice.
In-Person Hike
If you would like to participate in our in-person event, we will be hiking around Boulevard Lake from 10:30 - 11:30 am on Sunday, May 28th, with registration and opening ceremonies being held at St. Ignatius High School from 9-10:30 am. More details below.
Virtual Hike - Regional Hikes
If Hikers live outside of the Thunder Bay area, or just can't make the May 28th gathering, they also have the option to walk where they are most comfortable over the weekend of May 26-28th.
Hospice Northwest provides services in Nipigon, Red Rock, Terrace Bay/Schreiber, Marathon, Manitouwadge. Geraldton and Longlac. If you live in one of these communities and want to support the work we do, please consider joining the 2023 Hike for Hospice. You can sign up online or contact our office for more information at (807) 626-5573. 
Every participant is encouraged to snap a picture while hiking and send it to hike@hospicenorthwest.ca or tag us on Facebook or Instagram using #HikeforHospiceTbay, regardless of how or where you participate.
Memorial Video Montage
If you would like to display a photo of a loved one in our video montage , please email us the photo before May 19th. Emails can be sent to hike@hospicenorthwest.ca.
The video will be ready to watch on Friday for those that chose to walk prior to Sunday. We'll have the video available on our Facebook page, YouTube, and here on our website.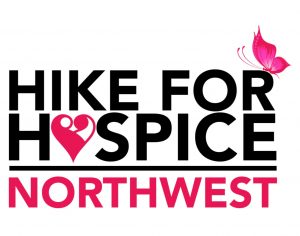 Hike for Hospice 50/50 Cash Raffle
The 50/50 raffle pot is growing! Get your tickets before May 30th.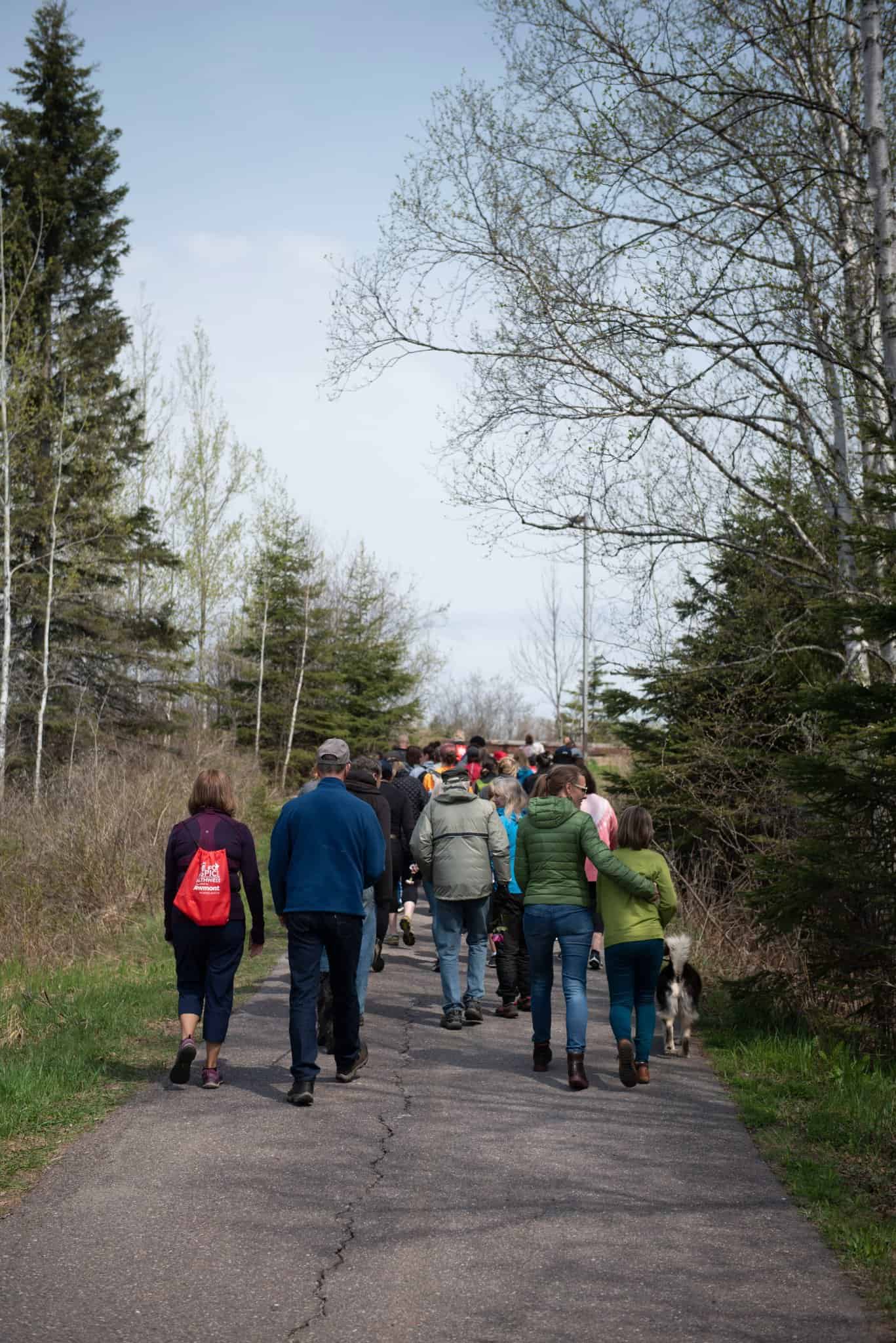 Register for the 2023 Hike for Hospice
Register Online
Sign up, create a personal fundraising page and keep track of your pledges online here:
Paper copies of the pledge form and waiver can be downloaded and printed here:
Early In-Person Registration - Friday May 26th from noon until 4 pm
Come to 63 Carrie Street to drop off pledge forms and donations on Friday May 26th. There will be a final chance to register on the day of the Hike, Sunday May 28th at St. Ignatius High School, from 9 - 10 am. However, if you want to skip the lines on May 28th, drop by the parking lot at St. Joseph's Heritage, 63 Carrie St. We will have a registration table set up. You can pick up your Hiker's Kit at that time. 50/50 tickets will be available for purchase at the table as well. We will have Hikers Gifts there for the first 100 Hikers who register, and will have ribbons and flowers available for those who are walking virtually.
Frequently Asked Questions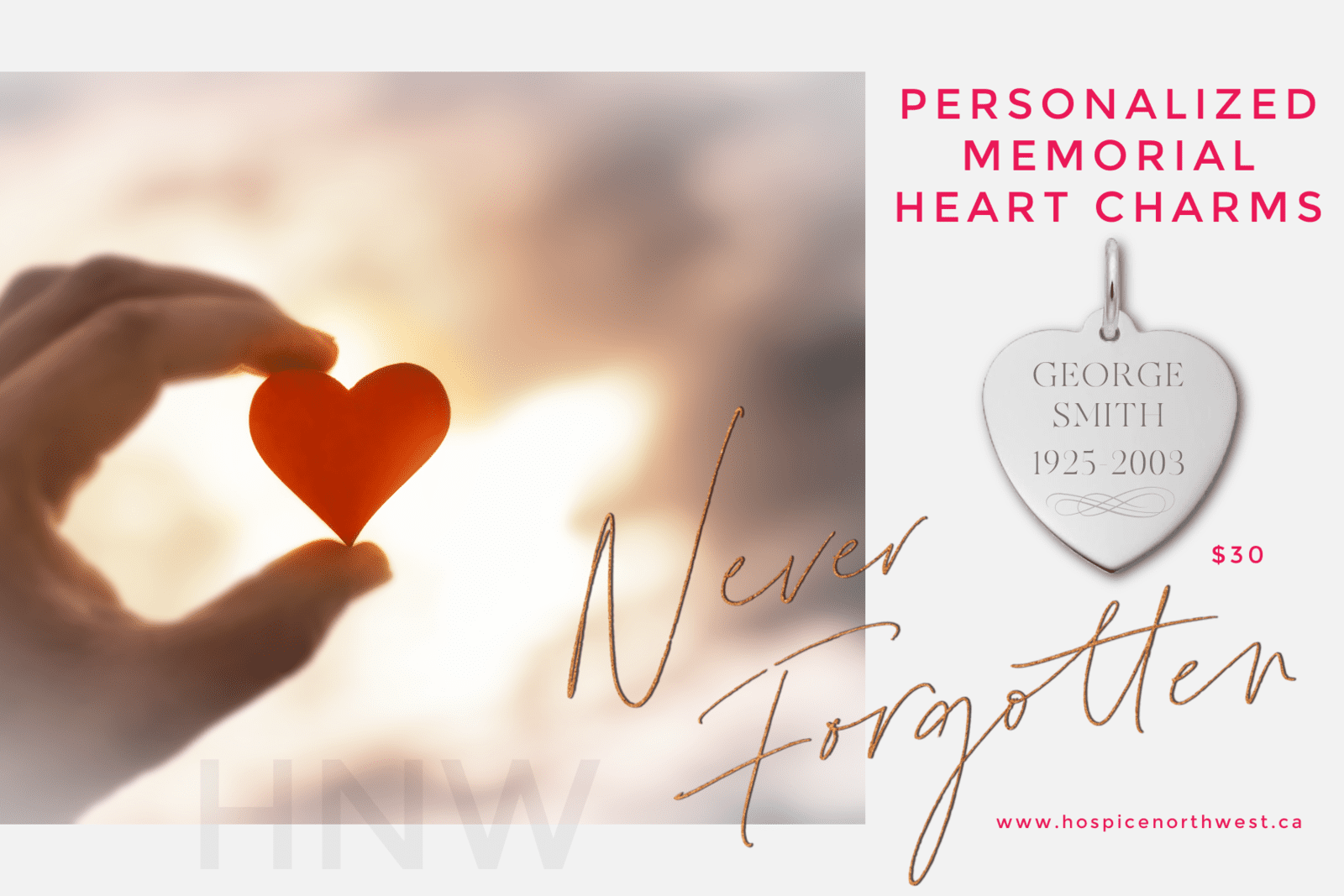 Personalized Memorial Heart Charms
Hospice Northwest will hav Personalized Memorial Charms for sale at the Hike for Hospice.
The charm can be added to a necklace, on a memorial urn, or placed in a spot of your choosing.
Charms are $30 each, including engraving. Orders must be in by May 16th.
Help Support the Hike for Hospice
Your online donation will support Hospice Northwest. Make a donation online to either a team, individual, or to Hospice Northwest.
Our 2023 Hike for Hospice Sponsors

Butterfly Remembrance Wall Sponsor
Remembrance Ceremony Sponsor
Major In Kind / Gift Sponsors
Become a Sponsor
Are you interested in Hike for Hospice Sponsorship Opportunities?
Help Support the Hike for Hospice
Make a donation online to help support Hospice Northwest