We are proud to feature and spotlight a book from our resource library every month. If you would like to recommend a book to be featured, or one you would like to see added to our library, please contact us at: Kathleen@hospicenorthwest.ca
We invite you to come into our library and check out our amazing titles!
This month we are proud to showcase:
Book of the month!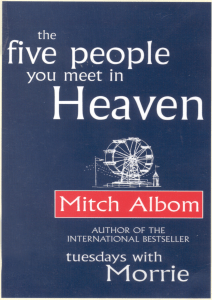 The Five People You Meet in Heaven
by Mitch Albom
The Five People You Meet in Heaven is the first novel that Mitch Albom, author of the international bestseller, Tuesdays with Morrie has written. This New York Times No. 1 bestseller illuminates the interconnectivity of our lives and how meaningful each interaction really is. The story of Eddie and the five people that he meets in heaven will resonate with readers of all ages. It will change your thoughts about the afterlife, as well as, the meaning of our lives on earth.